by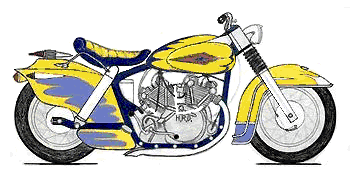 J. Randal (Randy) Montgomery
All designs, drawings and text copyright & copy 1962-2020 by the author/artist
you can contact me at RandyandRetreads@gmail.com


ABOUT THIS SITE (updated Dec. 2018)
Greetings fellow bikers. This site focuses on custom styling concepts for big V twin cruisers (powered by Harley, Vincent, and modern Yamaha Road Star engines) and also on custom cruiser designs based on English motorcycles, and also a Ducati, of the 1965 to 1975 era.
Here are also some pencil drawings (sketches) of mostly stock old Harleys, Indians, British, BMW and Honda Gold Wing motorcycles. I am proud to say that one of my sketches of a Harley Panhead was purchased to be the official logo of the Kickstand Lodge in North Carolina, a biker-friendly place to camp or cabin.
Custom art work available

Drawing above is entitled "Vee Power" , below "1950 Hydraglide EL"


---

IF YOU CLICK ON A SMALL IMAGE YOU WILL SEE A MUCH LARGER VERSION IN A NEW BROWSER WINDOW. WHEN FINISHED LOOKING CLICK "Back to Site" BUTTON TO RETURN HERE.

---
THUNDER VEE . This is basically a 1949-57 Hydra Glide with a Burman gearbox and English magneto. This beauty was ironically inspired by a ratty, oil soaked, hand-shift/foot clutch Hydra-Glide that broke down in front of where I was living in 1966. (The owner tried to sell it to me claiming he'd harmed the motor by going 100 mph in a 1/4 mile drag race. What a tall tale!)


---
SWEET CHARIOT .

---

Drawing #11 is a typical late 1960's BSA like one I eventually owned. The rider is wearing a typical 1950's hat, like Marlon Brando rode in "The Wild One" movie. I wore one of these myself briefly before switching to a helmet after I almost ran my Matchless G-80S into a phone pole accelerating around a corner.

---
SUNSHINE SPECIAL .


---
WALLACE ROAD CRUISER ,, named after Bob Wallace a high school pal who liked motorcycles. Yes, the portholes etc. are inspired by 1950's Buicks.

---
DUO-GLIDE . The "Glide" referred to telescopically sprung and hydraulically dampened suspension, which had come out in 1949 on the front end of the Harley 61 and 74 CID panheads. Compared to the earlier springer front forks it really felt like you were gliding. So when telescopic-hydraulic suspension was added to the rear of the panheads in 1958, there were two sets of "glides", hence the "duo". Harley was on a par with the competition when it came out with the Glide forks in 1949, but it was by far the last company to offer rear suspension. Having ridden both a '41, a '50 and a '58 extensively, I can say that the seat suspension (the seats were sprung) on the bikes made for an OK ride at the rear. You could ride over miles of potholes on a gravel road and not feel them if you rode at least 40 mph. The rear tire took a lot of abuse but the rider didn't feel his rear wheel bouncing and skipping along. However even on paved roads most of the beer bottles (they didn't have cans back then) were smashed by the time you reached your destination.

---

G-50 Decker will really enrage those who admire the famous Matchless G-50 roadracer (500 c.c. single with OHC, circa 1960). Here, I have used the famous engine, gearbox and front forks, (and I've updated with disc brake) but the rest of the bike is pure American tourer. The saddle, saddlebags and rear shocks are from a 1965 Electra-Glide &reg, and the plastic cover over the tank mounted instruments was inspired by the dash of a big American car of that era. I've added a Triumph style carrier rack to the custom fuel tank. The frame is custom, and I've added "ape hanger" handlebars with fog lights. SACRILEGE and DAMNED SILLY will be what the purists will say, but I love big English singles but they are very uncomfortable for touring. (I used to ride hundreds of miles every weekend on my 1952 G-80S, so I know.) You really need some touring items such as I've added here (plus a windshield). So to me the bike is not as absurd as it appears at first blush.

---
THE STEADMAN SPECIAL . Danny Steadman only weighed 135 lbs. and stood about 5'8" but could ride a full dress Harley Duo-Glide like a road racer (and remember the lousy brakes they had back then). He loved Hogs so much he used to sing out loud while riding! Otherwise he wore a big grin. And he was an ace with a hand-banger (foot clutch and hand gear shift to you younger riders). To see hand bangers in action rent or buy the videotape of "Born To Ride", a Hollywood movie from about ten years ago, set in World War Two. A dandy action flick. Back around the 1940's there was an American movie called "Motor Patrol" about police riding Harleys. If anyone has it on tape I would love to buy a copy. A 1940's action series called "Spy Smasher" has the super hero chasing Axis spies on his hand banger Harley. (H-D only began offering foot shift as an option in 1952, and hand bangers were still sold to police up though 1979.) To see amazing scenes of hand banger Indian motorcycles being ridden like dirt bikes, buy the DVD or stream "The Phantom". If possible watch this movie on as large a screen as possible for best effect. It is very entertaining and the riding scenes are unbelievable.

---
Harley FLH. Almost stock. Can you spot the few custom mods?

---
---
NORTON "CUTLAS" still looks great decades after I drew it, if I don't say so myself.

---
FLYING WING is a mildly customized 1980's Honda Gold Wing "in flight".

---
1950 CHIEF . This quick sketch was done relatively recently.

---
Rolling Thunder Can't remember when I did this, but its one of my favourites.
---
DUCATI DECKER . I was inspired by the prototype Ducati V-4 engine and designed an American frame and sheet metal around it. Only the engine looks like any real thing, the rest all came from my imagination. Too bad Ducati never put the V-4 into production, as it would probably have performed like a V-Max. Apparently the tires of the day weren't up to the power of the Ducati. For more info and a drawing of what the prototype looked like see Ducati V-4.

---
STREET BEAST . Drawn around 1965 it is sort of a Hydra-Glide rigid frame with a Sportster or English forks and seat, and a Vincent engine. Looks light and fast despite the wild pink and lime green paint job and chrome teardrop tail lites and horn locations. (The horn is just behind the fork tubes.) The oil tank has a built in cooling rad.


---
RAIL JOB is a Harley decker or dresser, with an elongated wheelbase and more ground clearance.

---
Roadstar is a very slightly customized Yamaha Roadstar with greatly increased ground clearance

---
---
ATTENTION CUSTOM BUILDERS: I'd be super-flattered if any of you built a real bike that looks like any in these designs. You don't need a Vincent or Ducati engine - any V-twin will do. Please let me know and please give me credit for the design. Send photos when finished and we'll post it on this site.




If you are a real Biker, not just a rich Sunday putter, you'll enjoy reading about me, the bikes I've owned, restored or modified


ABOUT ME


Read about my wild weekend ride through the logging roads and goat trails of the Rocky Mountains on an old BSA (with some fearless if not crazy BMW riders). What an ordeal!
Adventure Ride


I drew and painted a lot more than motorcycles. (I began with cartoons as a child, then superhero comics and landscape watercolors, then underground comics and sketches of anything.) To see my serious paintings in various mediums, and cartoons, including funky sketches of a jeep, outlaw on H-D chopper etc. please email me. Attention musicians: I recently used some of these images for my songs (see link to Randy and the Retreads below) and can make images for your songs and CD covers too, at reasonable rates.



You can email me: randyandretreads@gmail.com
I also compose and sing (country rock, 1950's rock, jazz). Here is the link to Randy and the Retreads to listen to free samples and some entire songs and hopefully buy some great songs about old motorcycles and cars (and other subjects).
Starting in 1999 I began producing the large website Indian Chief Motorcycles which since then has had millions of visitors. I update it at least once a year so if you haven't visited it in the last 12 months please do.
---
Web site by J. Randal Montgomery & copyright by him. ADVERTISERS WELCOME!